Interview: Vinay Goyal – CEO, Ganges Internationale
---
In an interaction with Power Insight, Vinay Goyal, CEO Ganges Internationale shares his view on Indian Solar PV Mounting Structure Industry's growth opportunities and challenges as well as his plans to tap the oncoming opportunities. Excerpts. .
---
What is your say on growth and opportunities created for solar mounting solutions market in India on account of growth witnessed by solar PV sector over the last couple of years? How do you see the market evolving ahead?
Mounting structure is an important part of the overall system which involves the least capital expenditure. With increase in solar installations, market for mounting structures will also increase. There are Innovations in this domain too which can be seen in areas such as new designs, cutting down the weight of the structures while not impacting the balance and strength.
Secondly, the different types of material used to make structures, there is a growing need for highly durable, rust-free, corrosion-resistant materials in the industry like rust-resistant steel that have become highly popular in the solar panel market with its competitive pricing and greater durability.
Being one of the leading industry players, brief us about your company's strength and its key achievements so far? Also tell us about your product and service offerings for the solar power sector?
Ganges is a leading manufacturer of fabricated and galvanized structures for solar panel mounting in India.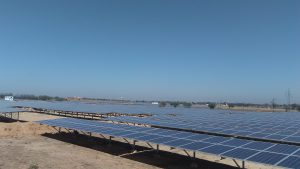 Company's backbone had been the design team and Hi-tech production facility at Pondicherry with a capacity
of 48000 MT per annum. Which comprise state of the art galvanizing plant and structure manufacturing sections.
We offer Rooftop and ground mount solutions. Polar Bear III which is our flat roof mounting solution, product which is in great demand among our commercial and residential customers. Fixed mounting and Single Axis
tracker which is also a demanded product among utility scale developers.
Reliability, flexibility and innovative mounting solutions at competitive price are some of the features that any client seeks, how well do you manage to match these requisites to beat your competitors?
That is correct. Customers are exploring various mounting structures which are innovative in nature with long term reliability and flexibility to re-install. So as to provide such offerings, we have partnered with Panel Claw (USA) for rooftop mountings and Sunlink (USA) for single axis trackers for their world class designs which are manufactured with quality materials here at our Pondicherry plant at competitive price possible. Thereby matching the two best features as required by our customers.
Could you share with us some of the key benefits of incorporating trackers in a solar project? As compared to other matured solar markets across globe, we see very limited penetration of Trackers in solar projects across India. What are some of the key barriers and what solutions do you recommend?
Trackers are now taking over fixed mount solutions & are become the major requirement for utility-scale projects. Trackers can generate 20-25% of additional solar power which helps in optimizing the land usage and reducing the component cost by generating more number of units. Thus, improved LCOE of Solar plants. Solar movement in India started a couple of year ago, last year we noticed 4GW projects installed in India which is now targeted to achieve more than double about 9GW. Customer have taken their time to really understand the technology and its advantages thus penetration had been be slow which will be seen gaining tremendously from current year.
What is your say on the growth across solar rooftop segment in India? As a mounting solutions provider, what opportunities do you see in this space over the coming years? Tell us about your plans to tap on the same?
Till Dec'16, total rooftop installation was about 1,020MW, comprising 377MW industrial, 263MW commercial, 121MW government and 260MW residential. Demand for rooftop will increase in the commercial sector
where power requirement is always in demand. It is believed that during FY17, the target is to achieve 2,000 MW which is assumed will be achieved. We believe demand of rooftop solar has only just begun. This market has got a great potential as the vacant rooftops becomes the most attractive place to install solar especially for the companies who dream to generate their own electricity where land availability is a challenge.
It is also encouraging to see government is keeping their focus too by addressing the key challenges in various states which will help in generating more demand..We are working on several designs to cater different market requirements while keeping quality and price in mind.
What are your future plans? Any, new product launch or expansion plans on the anvil?
We have already made huge investments in our manufacturing plant. We have a capacity of almost 200-250 MW per month. We are investing around Rs 100 crore in the next three years in India to increase the plant capacity, improve the design facility, R&D team to introduce new products in the market. Keeping in mind that the Indian solar market has installed approximately 4 GW in 2016 and will remain in focus with 9GW installation planned in 2017 with bigger focus ahead in the coming years, we are positioning actively on achieving lower costs with better technology
and material quality.
We are also innovating with new products, we are coming up with metal rooftop clamping solution soon. It is a clamp which is used predominantly in all commercial, industrial, warehouses, wherever there is a metal rooftop. We are looking at all the possibilities to expand into solar telecom towers and floating solar once our volume are justified.