The Indian solar EPC market is feeling the heat of competition as there is rise in number of players in the market. Further, since large IPP and integrated utilities are likely to develop internal EPC capabilities for cost optimization on account of falling tariffs in the market –consolidation drive is expected in the Indian solar EPC market.
On account of aggressive competitive bidding and declining equipment prices, the solar sector in India have been led to a rapid decline in solar power tariffs in recent times. The country is observing an improved capacity additions year on year in solar space, as the country strides ahead to achieve its 100 GW of solar capacity targets by year 2022. Registering a compound annual growth rate of 20 per cent from 2013-14 to 2017-18, the total installed solar capacity stood at around 23 GW as of June 2018. No doubt the engineering, procurement and construction (EPC) industry is also evolving rapidly to keep pace with the segment.
Market Overview
Solar EPC contractors, who are also known as solar engineers, procurer, and construction contractors, help a company to start its solar project. The detailed engineered design of the project is carried out by the EPC contractors while obtaining all the necessary materials and equipment and delivering an asset or functioning facility to the clients. The primary benefit of hiring a solar EPC contractor is that you will get the complete range of solar solution from one place.
From a policy perspective, decisions made with respect to international trade, investments and economics are generally prone to volatility and uncertainty – as the solar panel prices (in USD) have been dropping annually during 2010-16, the exchange rate (USD to INR) has been increasing consistently. Even though module prices reduced due to better business dynamics, the EPC players could not maximise their profits in the presence of a surging exchange rate. According to Bridge to India, EPC cost for utility scale projects fell marginally to INR 38/ W due to reduction in module prices (USD 0.33/ W, down 6% over Q4 2017).
In such situations, the solar industry runs the risk with respect to obtaining finance, thus making the EPC business unreliable in the Indian solar industry.  The prevailing scenario gives an impression that only big EPC players with MW-scale businesses can sustain themselves in the long run. Which is quite evident looking at the Indian Solar EPC market, which is dominated by large firms which occupied the top ten spots and accounts for around 40 per cent of the market share.
Market Share
Indian solar EPC space is dominated by few large players. In addition, there are developers who opt for self EPC and smaller players. The notable EPC player during the last financial year were –  Sterling & Wilson, Mahindra Susten, Tata Power, JUWI, L&T, B-Electric, Gamesa, BHEL, Rays Power Experts, Rays Power Infra, Vikram Solar, Jackson, Oriano, Ujaas, Vivaan, Waaree, Harsha Abacus, Enrich, Premier Solar, Lanco, etc. Amongst EPC players, Sterling and Wilson has the largest market share of 13.35 per cent, accounting for 1,224.33 MW of installations in 2017-18. It is followed by Mahindra Susten with a market share of 3.23 per cent and Tata Power with 2.78 per cent.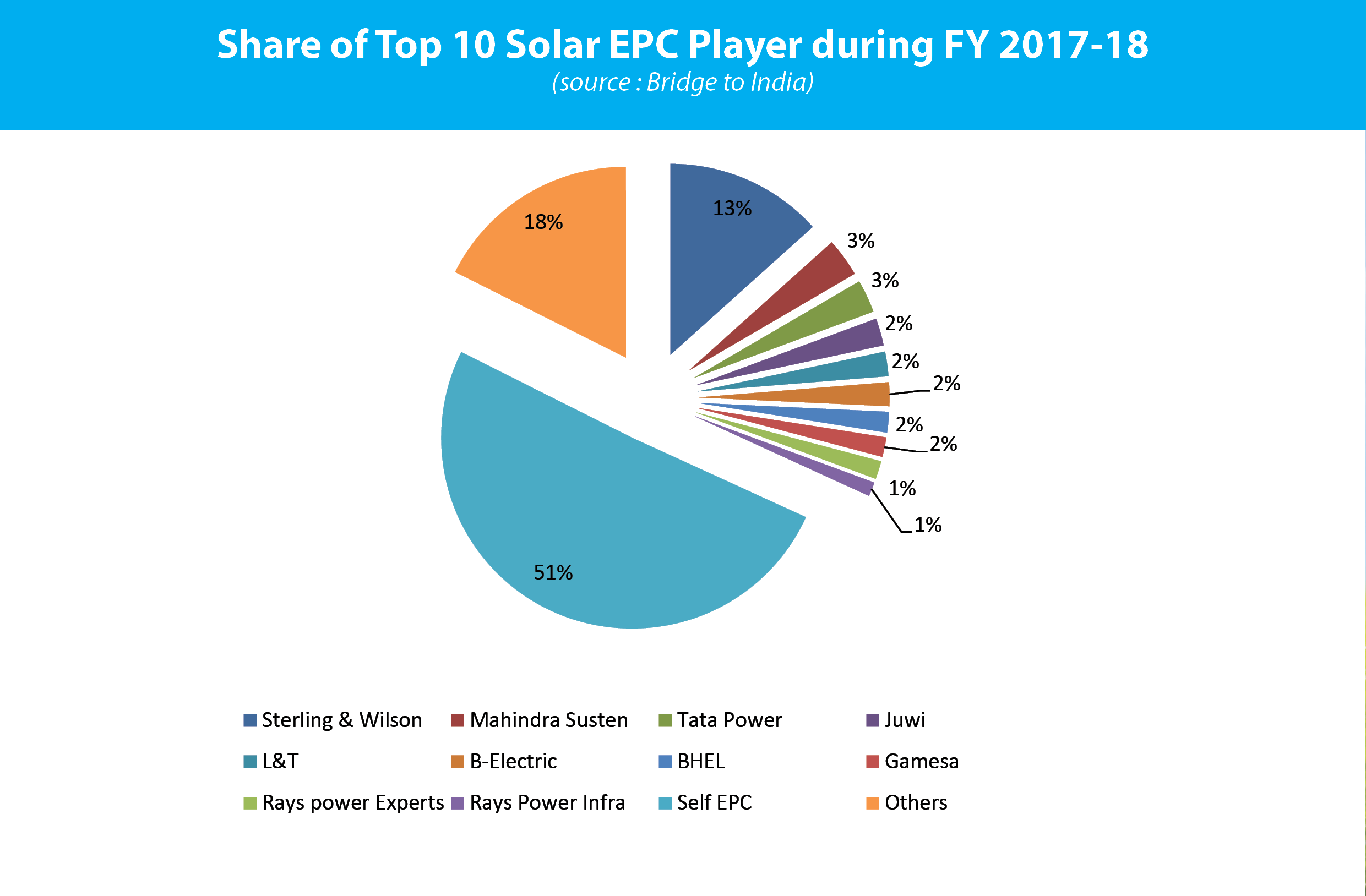 However, as India is witnessing a sharp decline in solar tariffs, more and more developers have opted to carry out their own EPC so as to take care of cost optimisation. This share self EPC installations was about 50.59 per cent in 2017-18, translating into 4,639.61 MW of solar capacity against the total of 9,171 MW installed during the period, according to solar consultancy firm BRIDGE TO INDIA, recent report. Whereas, the smaller players together installed around 1029 MW of solar capacity during FY2017-18 accounting for around 11 per cent of the total market share.
Changing Trends
As per the Central Electricity Regulatory Commission, the cost of solar EPC for a utility-scale solar power project is around 79 per cent of the total project cost. However, with falling solar tariffs – the EPC costs have also been declining as a result of the cost-cutting measures being adopted by developers to improve their margins.
Further, the decline in EPC prices can also be attributed to the rise in number of players in the market, all offering these services at competitive prices. As competition is rising only EPC players who are capable of taking big projects reaps the benefit of economies of scale. Thus, the competitive market environment with margins shrinking – it has become difficult for small EPC players to sustain the pressure. This has led the smaller EPC firms that do not have the financial capability for project development – to focus on rooftop solar projects and captive projects to sustain themselves.
It is also been observed in the market that larger developers are building their own internal EPC capabilities to improve project viability thus resulting in shrinking of customer base of stand-alone EPC firms. This changing scenario has necessitated for stand-alone EPC firms to diversify their operations in order to stay viable. Thus, the developers cost optimisation drive is more and more responsible in extending the scope of EPC contracts which are turning more into turnkey solution providers.
It has been observed now days that apart from basic EPC services, the contractor is also taking responsibility of obtaining approvals and providing operations and maintenance (O&M) services, as well. The transformation of EPC contractors to turnkey solution providers has happened in the past two to three years, when the number of projects in the Indian solar EPC market increased significantly and tariffs started declining rapidly. Further, the execution of the complete project, instead of only the EPC component, is expected to improve margins.
The way forward
As the solar segment is witnessing fall in tariffs, large IPP and integrated utilities are likely to develop internal EPC capabilities to improve project economics, thus increasing the share of companies with in-house EPC capabilities. This changing market trend could lead to consolidation in the Indian solar EPC market. Thus, stand-alone EPC companies are expected to either consolidate with bigger players or integrate into complete project developers and power producers.
Further, the emergence of automation technologies has led to leaner operations, leading to high capital costs initially, but greater savings over the project lifetime. With the increasing penetration of information technology into the solar power segment, companies will have to include automation as a key element.
The EPC companies are increasingly employing these automation to improve their service quality and to become more efficient, improve operational margins and reduce project lifetime costs. However, the key to increasing returns will depend not only on improving service quality but also on increasing the number of contracts in order to help achieve economies of scale.