Sungrow completes grid connection of 400MW Utility-Scale PV Plant for Softbank in India
Sungrow, the global leading inverter solution supplier for renewables, announced today it has satisfactorily completed its 400 MW utility-scale PV plant in India. This project is located at Bhadla Solar Park, Rajasthan, India, which is connected to the grid on time and has reached commercial operation.
The northwestern Indian state of Rajasthan is one of the nation's hottest, driest corners and much of the land lies in a monsoon rain shadow: the dusty Thar Desert exerts a great climatic influence, bringing aridity and extreme temperature up to 50℃, throughout much of the year. These factors combined have made the strictest standards of quality for PV solutions in the area.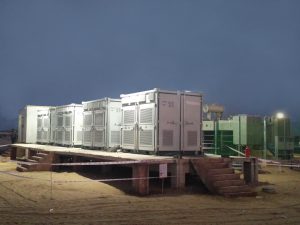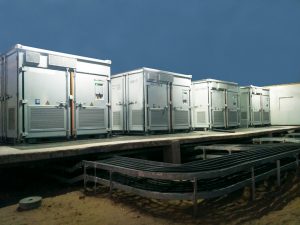 SG3125HV at SoftBank- 400 MW, Bhadla, Rajasthan
Designed to bring a high ROI for utility-scale 1500V flat ground mounted plant, Sungrow's turnkey station SG3125HV employed in this project integrates the PV inverter together with block monitoring, an auxiliary power supply, and Night Static Var Generator (SVG) function, housed in a standard 10-foot container, and it enables a lower initial investment and easy O&M. Moreover, the SG3125HV reaches a peak efficiency of 99% and can perform without derating at 50℃, especially suitable for hot and humid climates in India.
Sungrow India team has been very active in the market in 2018, proving adept at identifying attractive PV opportunities and delivering massive new contracts. Along with Sungrow's new factory in Bangalore is already coming online, the division can also offer long-term O&M services to the local partners.
This 400 MW project was of SoftBank Energy, which has decided to invest $60 billion-$100 billion in solar power generation in India. "We are proud to be the trusted partner of SoftBank for this pioneer project to show our high-quality, international-standard PV solutions and technology," commented Professor Cao Renxian, Chairman of Sungrow. "Moving forward, we intend to further increase our portfolio and strengthen our standing in in meeting India's energy demands through clean energy and building a green and sustainable environment."
About Sungrow
Sungrow Power Supply Co., Ltd ("Sungrow") is a global leading inverter solution supplier for renewables with over 68 GW installed worldwide as of June 2018. Founded in 1997 by University Professor Cao Renxian, Sungrow is a leader in the research and development of solar inverters, with the largest dedicated R&D team in the industry and a broad product portfolio offering PV inverter solutions and energy storage systems for utility-scale, commercial, and residential applications, as well as internationally recognized floating PV plant solutions. With a strong 21-year track record in the PV space, Sungrow products power installations in over 60 countries, maintaining a worldwide market share of over 15%.
Learn more about Sungrow by visiting www.sungrowpower.com